Pop Punk Pizza Party V Ticket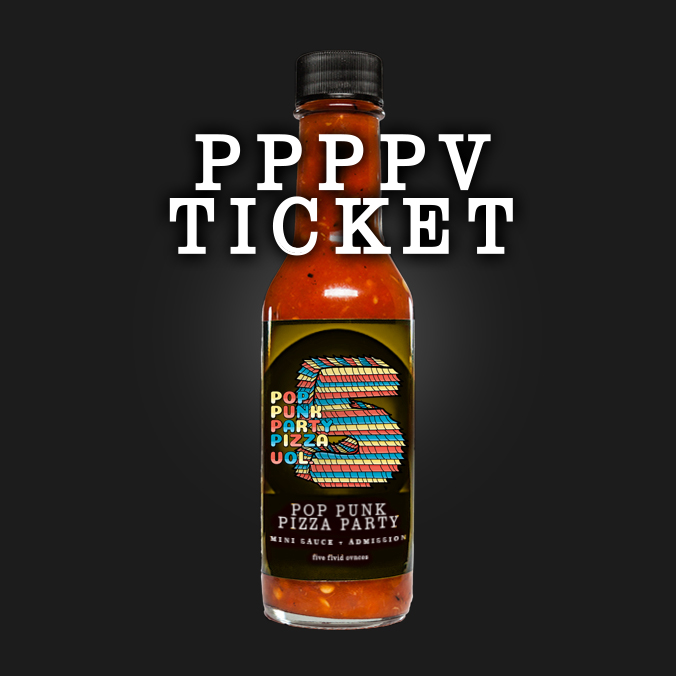 Pop Punk Pizza Party V Ticket
WELCOME TO POP PUNK PIZZA PARTY V.

For the 5th straight year, we are hosting THE diy after party of Riot Fest weekend. It is also the celebration of our 5th year in business, so we wanted to do something extra special. Presenting the first ever QUADRUPLE SECRET BAND AFTERSHOW. You know that we work to bring you the best local/national bands for our Pizza Party's…so trust us when we say it's going to be a BANGER. All 4 bands are either playing Riot, The Fest, or both. There will also be a secret guest MC who you'll remember from pizza parties past/the million bands they're in.

We'll be hosting with our partners in crime MP Shows at the last of the Logan Square dive venues, The Burlington, taking it back to our roots at Quenchers (#RIP). This is a super small venue, so don't sleep on tickets. Once they're out, they're out.
As a special thank you for all of your support the last 5 years, we'll be giving a TSA safe (for all you out of town folks) bottle of our Pop Punk Pizza Party hot sauce THAT TASTES LIKE PIZZA IN A BOTTLE! Full size will be available for purchase as well.
Pizza sponsor for this year will be announced as we approach the party, but be sure to follow the Facebook event for updates! We're committed to finding a partner with vegan options available for all of our veg/vegan friends.
You can also preorder sauces for pick up at the show by placing an order using the discount code PPPPV. Please note, if you do not pick up at the show you must contact us/pay for any extra shipping costs.

THIS PURCHASE REPRESENTS YOUR ENTRY TO THE SHOW. BUY 1, GET 1 ENTRY. BUY 5, GET 5 SPOTS UNDER YOUR NAME. NAME TRANSFERS WILL BE DONE ON A LIMITED BASIS BY EMAILING SOOTHSAYERHOTSAUCE@GMAIL.COM OR THROUGH THE CONTACT US FORM ON OUR WEBSITE.
Show details are:

Saturday, September 14th
Burlington Bar
3425 W Fullerton, Chicago, IL 60647
9p-1a

sold out